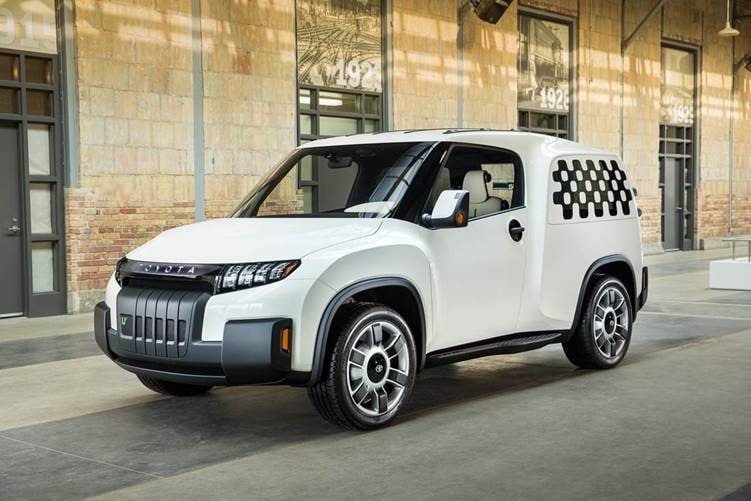 From Toyota Canada:
(TORONTO, ON – February 11, 2016)
Visit Toyota and discover a vision for Ever Better Cars, beginning with the Toyota Urban Utility concept vehicle ("U Squared"), which makes its global motor show debut at the 2016 Canadian International Auto Show, February 12-21 at the Metro Toronto Convention Centre. This unique concept introduces a fusion of utility van, truck and passenger car and compliments the rise of the do-it-yourself movement that is transforming cities with invention-focused Maker Faire events and growing entrepreneurship.
"As a company of makers, Toyota has been driven by a passion for designing and engineering practical solutions to meet the ever-changing needs of its consumers. The Toyota U2 concept is an example of that – a vehicle tailored to those who make up today's makers, creators and mobile entrepreneurs," says Cyril Dimitris, Vice President, Sales, Toyota Canada Inc. "This creative class blurs the lines between work and play and we're delighted to give Canadians the first look at this compelling vision of urban mobility."
The U2 concept is also the perfect vehicle for young, urban drivers who lead an active lifestyle and have embraced adventure. It's a flexible, functional mobile gadget that owners can customize according to their individual, on-the-go needs. Its custom graphics and interior colours and materials make the U2 concept a reflection of the owner's style, while its compact footprint makes the U2 concept easy to drive and park in crowded urban cores.
"The U2 is a compelling design exercise that delves into the increasing re-urbanization of our cities and urban drivers' desire for flexibility, fun and maneuverability," says Kevin Hunter, President of Calty, Toyota's North American design studio. "Calty keeps a number of projects concealed while continuously exploring new ideas for unique concepts, and the U2 gives people a rare look at the constant innovation and creative thinking that happens behind closed doors at Toyota and our Calty studios."
Prior to developing this unique Urban Utility Concept vehicle, researchers at Calty met with notable makers in San Francisco, at the Bay Area Maker Faire, to understand their lifestyle, needs, and the challenges they face when it comes to mobility. The Toyota U2 concept's unique design and the details sparked by that research were not lost on the exclusive group of Toronto makers and entrepreneurs who were treated to a sneak preview earlier this week at the historic Arstcape Wychwood Barns, where they marveled at the unique configurability and features such as:
Side windows that flip up easily for more access from roadside
Rear space that may be used anywhere from fully closed to completely open –
Retracting roof panels
Rear glass panel that slides into the tailgate
A fold-down tailgate which reconfigures into a ramp
Retractable utility bar to customize for unique uses, from workspace to grocery bag hooks
A versatile utility rail system allowing configurations to accommodate everything from baskets to bike stands
Foldable and removable front passenger seat
Fold-up rear seating
Durable underbody
Iconic modern design elements including a selection of colours and materials to suit a variety of tastes.
The Toyota U2 headlines an impressive display of Toyota and Scion autos, SUVs and light-duty trucks at the auto show this year. Other highlights include:
2016 Toyota Prius
The all-new, fourth generation Toyota Prius arrives in dealer showrooms this winter. It's the first vehicle to employ Toyota's New Global Architecture (TNGA) development program, and it's ready to win over new fans with ground-breaking environmental performance, bold new styling and a fun-to-drive spirit.
2016 Toyota RAV4 and RAV4 Hybrid
The 2016 RAV4 has been upgraded and is joined by the first-ever RAV4 Hybrid as Toyota continues to introduce the advanced efficiency of the Toyota Hybrid Synergy Drive to more vehicles. Great things happen when the world's most popular and proven hybrid powertrain joins forces with one of Toyota's most popular vehicles – built right here in Canada. And while you're there, don't forget to check out the RAV4's unique Bird's Eye View camera safety feature.
2016 Scion iM
Scion by Toyota will have a full line-up of models on display, including the newest addition – the Scion iM. This all-new model redefines Canada's popular hatch-back segment with bold styling, dynamic handling and an extensive list of standard features – including many premium amenities.
Other "must-see" models
From the bold Yaris Sedan sub-compact and Corolla compact to the Prius c, the Toyota booth showcases a broad range of small cars that are big on style. Those looking for a full-sized ride will want to check out the newly-styled Avalon premium sedan. And truck fans won't want to miss the next-generation, more rugged Tacoma – including its award-winning Atkinson cycle V6 that delivers more power, better towing and improved fuel efficiency – as well as the Tundra TRD Pro Series pickup truck.