Fifteen-year-old Rachelle's "Toyota Cares" and seven-year-old Thomas' "The Book Creator Car" were awarded bronze, finishing in the top five in their respective age categories.

Rachelle from Vancouver, BC, uses her creative skills to help out her community by designing t-shirts and brochures for local events. Following this passion to make a difference in society, Rachelle created a vehicle that could help communities all over the world. Her dream car, "Toyota Cares", is a vehicle that would be deployed in areas affected by natural disasters to provide mobile and comfortable shelter for people.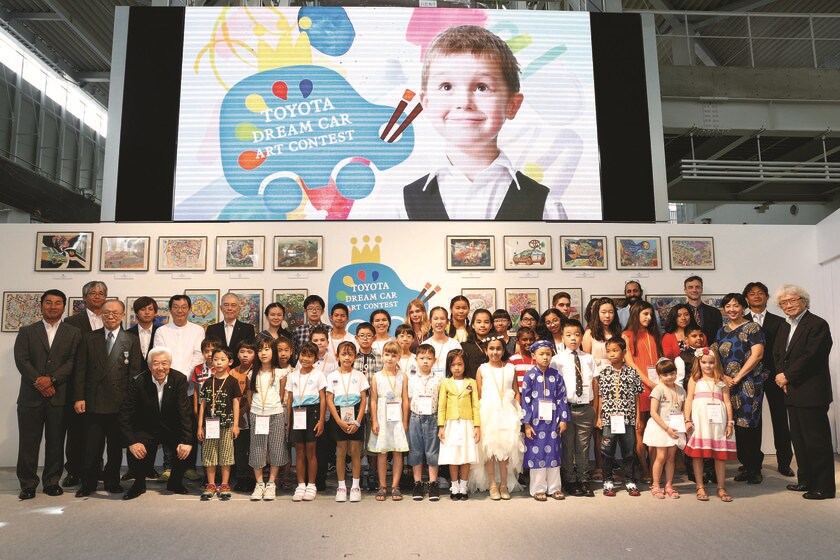 Artistic talent runs deep in Rachelle's family as her sister, Noelle, was a global finalist in last year's Dream Car Art Contest. This year, their family returned to Japan with Rachelle as a global finalist.

"My experience in Japan was very memorable and I made many new friends from around the world," Rachelle shared. "I appreciate Toyota's efforts to bring people closer together through art and imaginations."
Thomas from Richmond, BC, loves art and reading – and this was his inspiration behind "The Book Creator Car" design. This vehicle can process fallen leaves into books to provide kids all over the world with the opportunity to learn how to read.

This was Thomas' first trip to Japan and he was excited to share his experience.
"The rickshaw ride in Asakusa and our visit to the Mori Museum were so much fun," he said. "But my favourite thing about the trip was learning about everyone's amazing artwork!"

"I'm tremendously proud of the effort and dedication Rachelle and Thomas put into their artwork," said Larry Hutchinson, President and Chief Executive Officer, Toyota Canada Inc. "The talent and creativity of Canadian youth is impressive, and we at Toyota Canada are continuously inspired by the enthusiasm and innovation they bring to this contest."
As part of their trip to Japan for the awards ceremony, Rachelle, Thomas and their families also spent a week learning about Japanese culture and history.

Prior to the global portion of the contest, national contests were held around the world. In April, the winners of the national contests advanced to the global portion of the contest. Under the guidance of the chairman of the judging panel, Toyota Motor Corporation President Akio Toyoda, external experts from the fields of art and automotive science judged the entries and selected the global award winners.

The goal of the Toyota Dream Car Art Contest is to inspire creativity among youth and reinforce the importance of having a dream, while encouraging an interest in cars. Reflecting Toyota's commitment to fostering long-term innovation, the contest is open to children aged 15 and under in three age categories: under 10 years old, 10-12 years old, and 13-15 years old.

Source: Toyota